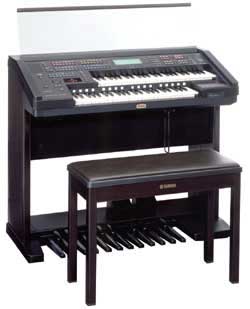 Yamaha Electone EL-900M
This model takes many of the final refinements of the ELX-1m and added them onto the EL-900 form factor. These features include polyphonic pedals, 230 voices and editable VA voices. It doesn't look like micro-tuning made it though.
This model also has the following additional voices: String 8, Syn Brass 4, Trombone 3, Timpani 2, Flute 3, Flute 4, Oboe 3, Oboe 4, English Horn 2, Bassoon 3, Clarinet 3, Syn.Lead 6, Syn.Lead 7, Tutti 8, Tutti 9, Tutti 10, Chorus 6, Chorus 7, Chorus 8, E.Piano 4, Elec.Bass 5, Syn.Bass 4, and Syn.Bass 5. This matches the ELX-1m.
An upgrade kit is even available to take an EL-900 up to EL-900m specs.
The last picture with the mirror is Alex Payler's EL-900m. This is a unique instrument: It was originally black but most of the parts are changed to genuine white parts from Japan; the top is kept black to look closer to the ELX.